Whether you want to save money, add value to your home, or just contribute to the betterment of the environment, creating an energy-efficient home is a good idea. There is a mistaken belief that energy-efficient means expensive. Here are a few of the best and most affordable ways to make your house more energy-efficient and help you save money in the long run.
Add Insulation
Adding insulation is the most effective way of preventing heat loss and providing a higher energy-efficiency rating. Not only does it make your house more comfortable, it also makes it more attractive to potential buyers. There are multitudes of online resources if you're interested in DIY.
Clean HVAC Unit
Having your unit cleaned and serviced annually is one of the most important maintenance tasks you can do because it plays a huge role in increasing life expectancy of your HVAC system. This system is responsible for the majority of energy-efficiency problems such as heat loss, heat gain, or uneven heating. By cleaning or replacing filters regularly, you can lower power consumption up to a 15%.
Use a Smart Thermostat
Smart thermostats are easy to install and connect straight to your smartphone. They allow you to use an application to control your heating and air conditioning. These smart thermostats are capable of determining outdoor conditions, such as humidity, and adjusting interior temperature based on those results. Buying a smart thermostat provides a huge cut in energy consumption resulting in lower utility bills.
Install LED Lightbulbs
LED lighting is by far the most energy-efficient and environmentally friendly way of lighting your home. They also have multiple benefits including: a lifetime of up to 100,000 hours, which means less money on buying new bulbs; they are clean and recyclable; and they are ideal for outside lighting because they can withstand rough weather conditions.
Install Low Flow Shower Heads & Faucets
Installing low flow shower heads and faucets are an affordable and simple way to save both money and water. For $10 per head, they are capable of reducing water consumption by up to a whopping 50%! Low flow does not mean low pressure.
Transforming your home into an energy saving machine is now easier than ever. Simple and practical solutions such as HVAC maintenance, LED bulbs, low flow faucets, and smart thermostats or a DIY insulation project can have profound and long-lasting effects on both the environment and your wallet.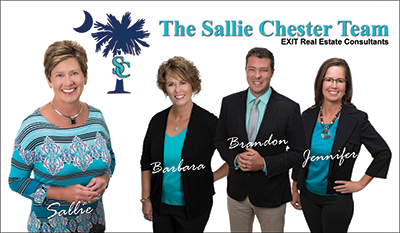 Lake Murray SC Real Estate - The Sallie Chester Team of Exit Real Estate Consultants​With an emphasis on real estate sales on Lake Murray and off-water properties in Lexington, SC and surrounding areas, Sallie Chester and her team of professional REALTORS® utilize EXIT's cutting edge technology along with old-fashioned customer care to provide each client with exceptional service. Sallie lives on Lake Murray and with many years as a leader in the real estate industry, her clients value her knowledge, professionalism, and business experience.