I live, work and play on Lake Murray in the midlands of South Carolina and there are lots of fun facts about this area.

The Story of B-25s at Lake Murray started with Japan's attack on Pearl Harbor on December 7, 1941 in World War II. After declaring war against Japan, the United States military began planning a top-secret mission against Japan. The Tokyo air raid was planned and led by Lieutenant Colonel James "Jimmy" Doolittle. The 17th Bomb Group, then flying antisubmarine patrols from Pendleton, Oregon, was chosen to provide the pool of crews from which volunteers would be recruited for this "extremely hazardous" mission. They were moved cross-country to Lexington County Army Air Base near Columbia, South Carolina, which is the present day Columbia Metropolitan Airport. This group trained very briefly out of the Lake Murray area, conducting practice bombing runs to Doolittle Island, aka Lunch Island or Bomb Island, now a Purple Martin Sanctuary. The island was used through the 1940's for other pilots as they trained for service in World War II. Records indicate that at least five B-25s crashed into the lake; three were immediately salvaged, and at least one remained abandoned at the bottom of Lake Murray. That was the one that took off from the Lexington County Army Air base on April 4, 1943. It was on a skip-bombing mission over the lake's island targets. The crew ditched in the water about two miles west of Dreher Shoals Dam when the left engine lost power. It ended up at the bottom of Lake Murray, at a depth of 150 feet—too deep for the U.S. Army Air Forces to salvage it. It was written off as a loss.
Greenville resident Dr. Bob Seigler had researched the plane since 1989. In 1992, he was working with the US Naval Reserve Sonar Unit when they located the exact position. With help from attorney John Hodge, they began the long process of obtaining salvage rights from South Carolina Electric and Gas, the owner of Lake Murray, as well as securing a quit-claim deed from the United Sates Air Force. Also, a host museum had to be found. Dr. Seigler, John Hodge and Dr. Bill Vartorella, formed the Lake Murray B-25 Rescue Project to salvage the aircraft from the bottom of Lake Murray.
In September 2005, the plane was brought to the surface by a team of divers, aviation historians, and explorers. The aircraft was transported to the Southern Museum of Flight in Birmingham, Alabama, for stabilization and permanent exhibition. John Hodge, Dr. Bob Seigler, and Dr. Bill Vartorella were honored by receiving the Order of the Palmetto, South Carolina's most prestigious civilian award on May 21st, 2008 at the opening of an exhibit at the South Carolina State Museum.
In a previous blog, I wrote about the purple martins' nesting site on Doolittle Island (aka Lunch Island or Bomb Island). This was the bombing range site for many B-25 practice bombing missions at Lake Murray. Relics of those training missions can still be found in the area.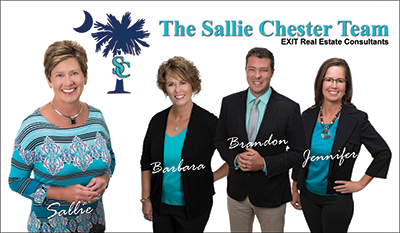 Sallie Chester with The Sallie Chester Team of EXIT Real Estate Consultants places an emphasis on real estate for sale on Lake Murray and off-water properties in Lexington, SC and surrounding areas of the midlands. Sallie Chester and her team of professional REALTORS utilize EXIT's cutting edge technology, along with old-fashioned customer care to provide each client with exceptional service. Sallie lives on Lake Murray and with many years as a leader in the real estate industry, her clients value her knowledge, professionalism, and business experience.