The fishing is great at Lake Murray! I caught the largest bass I've ever caught in a cove near Pintail Point. I was on my cell phone talking real estate business with a colleague when he took my bait. My husband is a charter member of the Lake Murray Seniors Bass Club. They meet on the third Wednesday of each month and have their regular two-man tournament the following day. Tournaments are hosted frequently on the lake, including the Forest Wood Cup at Lake Murray in 2008, 2014 and 2017. Lake Murray is known as one of the most productive lakes in the Southeast for largemouth bass and striped bass. One can also catch crappie, bream, catfish and more. No; we don't have alligators in our lake.
Come to Lake Murray and enjoy all we have to offer!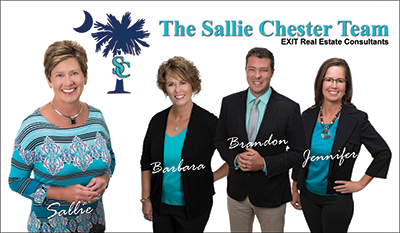 Sallie Chester with The Sallie Chester Team of EXIT Real Estate Consultants places an emphasis on real estate for sale on Lake Murray and off-water properties in Lexington, SC and surrounding areas of the midlands. Sallie Chester and her team of professional REALTORS utilize EXIT's cutting edge technology, along with old-fashioned customer care to provide each client with exceptional service. Sallie lives on Lake Murray and with many years as a leader in the real estate industry, her clients value her knowledge, professionalism, and business experience.