Lake Murray water levels remain quite consistent. FULL pool is considered to be 360 feet above sea level. NORMAL for the spring and summer months is around 358 feet and 355 for fall and winter months. In anticipation of excessive rains from Hurricane Florence, water was released from the spillway to 354 ft. South Carolina Electric and Gas had already announced a drawdown of Lake Murray to begin in October, 2018. This release gives that drawdown a head start. Jim Landreth, vice president of Fossil and Hydro Plant Operations said, "To keep the lake healthy, the water level needs to be lowered periodically to allow rainfall to scour the shallow coves, washing sediments into the deeper part of the lake. The sediments have unwanated nutrients that allow weeds to grow, which eventually become troublesome to boaters." Lowering lake levels exposes the plants to dehydration and freezing temperatures. During these few months of drawdown every few years, lake residents and businesses are encouraged to make dock repairs and shoreline improvements.
Visit the United States Geological Survey for current conditions at Lake Murray, SC.
Although the public will continue to have access to the lake, boaters are advised to use caution during the low-water period. Areas of the lake with typically higher water levels will become shallow and will not have hazard markers.
Lake Murray is expected to return to its normal elevation of 358 feet by spring of 2019.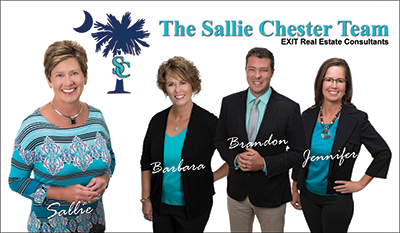 Lake Murray SC Real Estate - The Sallie Chester Team of Exit Real Estate Consultants​With an emphasis on real estate sales on Lake Murray and off-water properties in Lexington, SC and surrounding areas, Sallie Chester and her team of professional REALTORS® utilize EXIT's cutting edge technology along with old-fashioned customer care to provide each client with exceptional service. Sallie lives on Lake Murray and with many years as a leader in the real estate industry, her clients value her knowledge, professionalism, and business experience.