MARCH 2018 MARKET STATISTICS FOR FOR LEXINGTON, SC and LAKE MURRAY, SC
(Single family homes including condos, townhouses and patio homes. Mobile homes excluded)
LEXINGTON, SC
29072 & 29073 MARCH FEBRUARY

Number of Closed Sales: 198 176
Average Sales Price: $209,596 $210,464
Average Days on Market: 49 62
The number of home closings increased again in March. The average sales price decreased and so did the number of days on market.

LAKE MURRAY, SC All Areas-Waterfront

Number of Closed Sales: 20 21
Average Sales Price: $548,715 $436,957
Average Days on Market: 77 122
In March 2018, the number of closed sales remained about the same as last month. The average days on market decreased while average sales price increased.
All data comes from the Consolidated Multiple Listing Service, Inc which is reliable but not guaranteed.
OVERALL MARKET UPDATE
**April 2017 - March 2018**
All Areas of the CMLS Region
MEDIAN SALES PRICE: $166,000 5.7% Increase
PRICE RANGE w/ MOST SALES: $200,000 - $300,000 9.3% Increase
PRICE RANGE w/ QUICKEST SALES: $100,000 - $150,000 at 57 days
NEW LISTINGS: 1,760 4% Increase
PENDING SALES: 1470 8.8% Increase
DAYS ON MARKET: 66 Days 19.5% Decrease
Despite there being fewer homes for sale, buyer demand has remained strong enough to keep prices on the rise, which should continue in a consistently improving economy. The Federal Reserve raised its key short-term interest rate by .25 percent in March, and at least two more rate increases are expected this year. Borrowing money will be more expensive but rising wages and a low national unemployment rate would seem to indicate that we are prepared for this. And although mortgage rates have risen to their highest point in four years, they have been quite low for several years.
Source: CMLS Reports: Housing Supply Overview and Monthly Indicators March 2018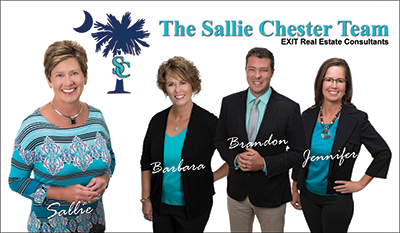 Lexington, SC Real Estate - The Sallie Chester Team of Exit Real Estate Consultants​. With an emphasis on Lake Murray property sales, Sallie Chester and her team of professional REALTORS® specialize in residential real estate in Lexington, South Carolina and surrounding areas. Utilizing cutting edge technology, along with old-fashioned customer care, The Sallie Chester Team takes pride in providing each client with superior service. Contact us today at 803-707-8595.