Lake Murray, South Carolina, may and may not be on your radar as a home destination, but it's where I live, work and play, and I love it! If you're not currently considering vacationing or relocating to Lake Murray, perhaps I can change your mind.
A fun fact about Lake Murray is that North America's first officially designated Purple Martin sanctuary is here! Until 2014, it was one of the largest roosting sites in America. Late each afternoon from June through late August or early September, hundreds of thousands of purple martins made their way to Doolittle Island in Lake Murray (also called Lunch Island or Bomb Island) to nest for the night. The number had been placed in the range of 750,000 purple martins returning to roost each late afternoon, but in 2014, that number was drastically reduced. The reason remains a mystery, but they're back...not in the hundreds of thousands, but thousands. I remember the first time I witnessed it...about 12 years ago. My husband, who had retired to Lake Murray long before we were married, took me. We, along with close to 50 or so other boaters, joined in the popular ritual of anchoring around the island to watch this phenomenon at dusk. The sky turned dark, but it wasn't sundown yet; it was the massive influx of birds that darkened the sky. Early each morning, they leave the island, going in all directions to forage for the day. By late summer, the purple martins begin their migratory flight to South America for the winter. It's just amazing!

When birds are roosting in the summer months, no one is allowed on the island. In 1995, the South Carolina Department of Natural Resources, the Columbia Audubon Society, and the South Carolina Electric and Gas Company, which owns Lunch Island, signed a joint agreement officially designating the eastern end of Lunch Island as the nation's first purple martin sanctuary.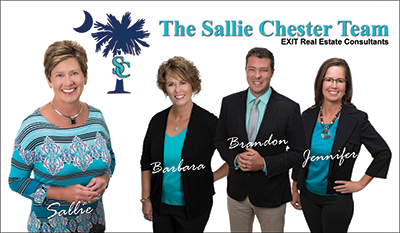 Sallie Chester with The Sallie Chester Team of EXIT Real Estate Consultants places an emphasis on real estate for sale on Lake Murray and off-water properties in Lexington, SC and surrounding areas of the midlands. Sallie Chester and her team of professional REALTORS utilize EXIT's cutting edge technology, along with old-fashioned customer care to provide each client with exceptional service. Sallie lives on Lake Murray and with many years as a leader in the real estate industry, her clients value her knowledge, professionalism, and business experience.