If you live in Lexington, SC, Lake Murray, SC or the surrounding area, and have questions about the home buying process, we can help. The housing market changes constantly and so does the buying process. Although our home buyer event is over, we are happy to answer your questions and help you through the process. Do you know what is required to purchase a home? Watch four short videos below and compare your answers.
ANSWER: Mortgage Interest Rates change Daily. Current Rate is @ 4-5 percent depending on the loan product, your credit rating and financial situation.
ANSWER:Credit score ratings range from 650-780. The higher the better. Often, a consumer will need to repair their credit before purchasing a home.
ANSWER: A seller typically pays the buyers' agent's commission.


ANSWER: A real estate closing is the final step in buying a home. The buyer(s), seller(s) real estate agents and closing attorney meet at set time to sign final documents.
Lexington is one of the fastest growing areas in the state, leading the way in healthcare, education and recreation, including popular Lake Murray. It's a short drive to Columbia, the state's capital city and home to the University of South Carolina. Live entertainment and educational opportunities are also plentiful at the Koger Center, the Colonial Life Arena, Riverbanks Zoo and Gardens, the State Museum and EdVenture Children's Museum. Centrally located in the Midlands, one can easily reach the beach or the mountains in less than three hours.
With over 500 miles of shoreline and 50,000 acres of recreational water, Lake Murray is home to many annual events including professional bass fishing tournaments, sailing regattas, the annual Tour of Homes, and holiday fireworks displays. With an average temperature ranging from 56 degrees in January to 92 degrees in July, Lake Murray visitors and residents enjoy a perfect climate for year-round outdoor recreation!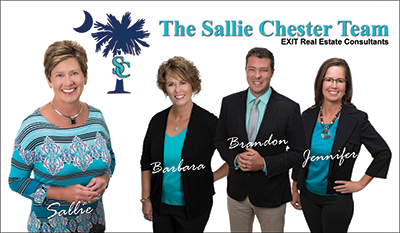 Lexington, SC Real Estate - The Sallie Chester Team of Exit Real Estate Consultants​. With an emphasis on Lake Murray property sales, Sallie Chester and her team of professional REALTORS® specialize in residential real estate in Lexington, South Carolina and surrounding areas. Utilizing cutting edge technology, along with old-fashioned customer care, The Sallie Chester Team takes pride in providing each client with superior service. Contact us today at 803-707-8595.