Who was William S. Murray for whom Lake Murray in the midlands of South Carolina was named? According to Wikipedia, William S. Murray was born on August 4, 1873 in Annapolis, Maryland. He graduated from Lehigh University in 1895 with a degree in electrical engineering. Murray began his career as an apprentice at the Westinghouse Electric plant in East Pittsburgh, Pennsylvania. He rose through the positions of testing room engineer, construction engineer on the road, district engineer of New England, and sales engineer before becoming an independent electrical engineering consultant based out of Boston from 1902 to 1905. As a consulting engineer, he was the chief engineer for the electrification of the New York, New Haven and Hartford Railroad.
He formed the engineering firm McHenry & Murray with E.H. McHenry in 1913 and in 1915 completed the New Haven electrification, then became involved in hydroelectric development on the Housatonic River in Connecticut. Murray entered the Housatonic Power Co. as assistant to the president, afterward becoming president himself. When the company merged into the Connecticut Light & Power Company, Murray became the new corporation's chief engineer.
By 1921, he was a senior member of the engineering firm Murray & Flood with Henry Flood, Jr. Murray & Flood were retained by T.C. Williams in 1923 to develop hydroelectric power plants in South Carolina, which resulted in the Saluda Dam. The lake created by the dam was named Lake Murray after him.
There is quite a lot of history surrounding Lake Murray, and it's where I live, work, and play. I'm eager to assist you should you desire to make a move to the jewel of South Carolina, where water recreation is enjoyed year round!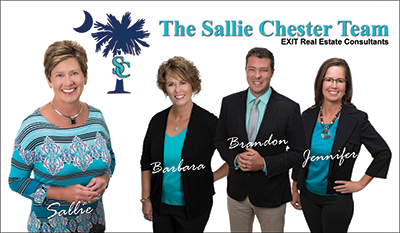 Sallie Chester with The Sallie Chester Team of EXIT Real Estate Consultants places an emphasis on real estate for sale on Lake Murray and off-water properties in Lexington, SC and surrounding areas of the midlands. Sallie Chester and her team of professional REALTORS utilize EXIT's cutting edge technology, along with old-fashioned customer care to provide each client with exceptional service. Sallie lives on Lake Murray and with many years as a leader in the real estate industry, her clients value her knowledge, professionalism, and business experience.