In a market that is always moving, there is something wrong with a house that doesn't sell, but it is not always location or condition. The number one reason a house doesn't sell is price. Homebuyers do not make offers on overpriced homes, and that's particularly true in a seller's market.
Homebuyers will not make offers on overpriced homes for several reasons. The first is that they do not want to offend the seller. By offering substantially less than the asking price, they are afraid of insulting the seller, which can be embarrassing for the buyer. Also,buyers think that if a seller knows their home is overpriced, they will simply lower it. Buyers also assume that the seller has turned down "lowball" offers when, in most cases, there have been no offers at all.
You can use an overpriced home to your advantage when looking for your dream home. The easiest way to do this is by asking your real estate agent to provide a list of homes that meet your basic criteria and that have been on the market well above the average days on the market (DOM) for your area. Narrow the list to those in which the online appearance/presentation of the home and your "drive-by" of the property is acceptable. Then ask your agent to identify those that he/she feels are overpriced. Now you are ready to go touring, make your number one choice, and make an offer with compelling reasons as to why the sellers should consider your offer.
There are many overpriced homes hiding among the inventory of homes for sale every day. Don't just pass them up. Usually, the longer a house sits, the more motivated the sellers become. Not every home will sell for significantly under list price, but if the home is truly overpriced, it never hurts to offer! Everything is just a matter of timing, and eventually, a seller will say "yes" to a lower offer.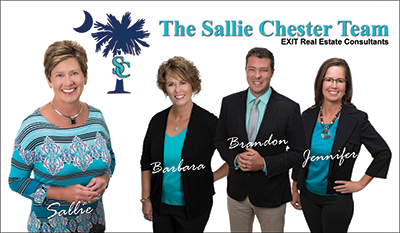 Lake Murray SC Real Estate - The Sallie Chester Team of Exit Real Estate Consultants​With an emphasis on real estate sales on Lake Murray and off-water properties in Lexington, SC and surrounding areas, Sallie Chester and her team of professional REALTORS® utilize EXIT's cutting edge technology along with old-fashioned customer care to provide each client with exceptional service. Sallie lives on Lake Murray and with many years as a leader in the real estate industry, her clients value her knowledge, professionalism, and business experience.